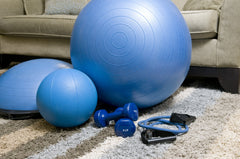 No matter if you've been relegated to working out at home by necessity or at-home workouts are your exercise of choice, sometimes it can be difficult to get the most out of home workouts. But not to worry- we've rounded up seven of the best tips for not only how to enjoy your workouts, but also challenge yourself and keep yourself accountable while working out from home!
Create a Dedicated Fitness Space
Creating a specific fitness space has the same effect on your psyche that an office or bedroom does for sleeping and working, respectively- it lets you know that this is the place for working out. It will help you keep all of your home fitness equipment organized and in one place, which equates to less time wasted looking around the house for different things. It doesn't have to be anything grand or spacious- just enough room to lay down a mat and to easily move around.
Set Aside Time to Workout
One of the greatest parts about working out at home is the convenience to get in your workout whenever works for you. At the same time, all that freedom can make it easier to skip workouts or cut them short. This is why it's a great idea to schedule out  workouts in your day planner or in the calendar on your phone. Write them in as you would any important appointment or meeting and once you've already set this time aside, you'll be less likely to fill it with something else.
Forget the 24/7 Cardio
Plyometrics, HIIT and circuit training are all definitely fun ways to get your heart rate up, and there is no doubt they can offer up a good mental endorphin boost, but cardiovascular training isn't the only thing you should be doing in your home workouts. If you've got goals to get lean, get strong, build muscle or get "toned" then all cardio all the time is not the answer. Strength training workouts are where it's at when it comes to getting stronger over time. Slow it down, focus on form and on completing all reps and sets at a challenging weight as opposed to prioritizing cardio.
Train Muscle Groups Equally
While we're talking about what sorts of workouts to include, the best at-home workout tip is to make sure you're targeting your muscle groups equally. It can be tempting to stick to your favorite booty-burner or leg day workout but if you neglect your chest, back and upper body, you're missing out on all of the benefits that exercises can provide. 
Put on Your Workout Clothes
It may be tempting to stay in your comfy pajamas for your workout, but it may not be the best option when it comes to your motivation. Even if you plan to get your exercise done indoors in the privacy of your own home, still make the effort to put on your workout gear as soon as possible. It will help get you in the right frame of mind for movement instead of Netflix. 
Turn on Some Tunes
There's a reason there is always music playing at the gym: it helps you get focused, motivated and inspired to get moving. The same is true for home workouts, too. Set yourself up with a killer workout playlist that gets you in the zone and helps eliminate outside distractions. 
Make Good Use of Your Time
At home, you might not have access to the heavy weight or fancy equipment that you're used to at the gym- but this doesn't mean it can't be time well spent. There are other things you can focus on during at-home workouts to improve not just your fitness but your overall well-being. Take time to improve your mobility and flexibility by incorporating mobility drills and daily stretching. Focus on healing any injuries you may have or paying attention to any lingering pain and carve out time to foam roll or use a magnesium balm. Use this time away from the gym to work on stress management techniques, self-care practices, and other ways of taking care of yourself in mind and body.